Usually, landscaping includes lots of plants and strategic water features. When you have an above ground pool, the focus is reversed. Your swimming pool is now the central design element, and the surrounding features are only intended to highlight the water.
There are many different options when it comes to beautifying your pool, and you can work within any budget. Keep in mind that cheap swimming pools can be elevated if you use strategic decor. You can create a high-end ambience if you use the right plant cover, and you don't have to spend a lot of money to do it.
One quick way to add some class to your pool is to install a pergola. You can place it over the entire pool, which can be quite beautiful. It's not advisable though because while it will give your pool a romantic aura, it will also increase your work load. The vines circling the pergola will routinely shed leaves and flowers into the pool, which means you spend more time cleaning. All those leaves are also likely to clog your filter.
Instead, set the pergola more to the side, so that it makes a cosy enclave where guests can share some poolside drinks and conversation. In addition to this fragrant shaded area, put in some lounge chairs and recliners so that swimmers can bask in the sun when they feel inclined.
Also Read This: Why you should install a pool this spring
Your pergola can have some benches incorporated into it, but you can also have an outdoor picnic area with a few chairs and tables. This makes for a great meal area, especially if you're having a pool party or barbeque. Choose seats that are waterproof. Vinyl is better than fabric, since it's easier to clean, though it heats up quickly and can burn, so keep vinyl seats in a shaded area. Foldable canvas chairs withstand weather better.
The floor around your pool also offers some great decor options. Most people settle for your basic brick and concrete, but you can add some style by using natural stone instead. There are plenty of affordable options, so it doesn't have to be pricey. Plus, the stone is cooler to the touch than concrete or cement, so it will be gentler on swimmers' bare feet.
A pool surrounded by tropical forestry is a landscaper's dream, but it may take some time for your little poolside jungle to grow. Your landscapers can install palm fronds and bamboo reeds to beautiful effect.
An easier option is to incorporate potted plants into your pool design. Your landscaper can advise you on the best varieties for your pool. They're generally fine with daily watering and all little weeding. That's probably something you can manage without external help.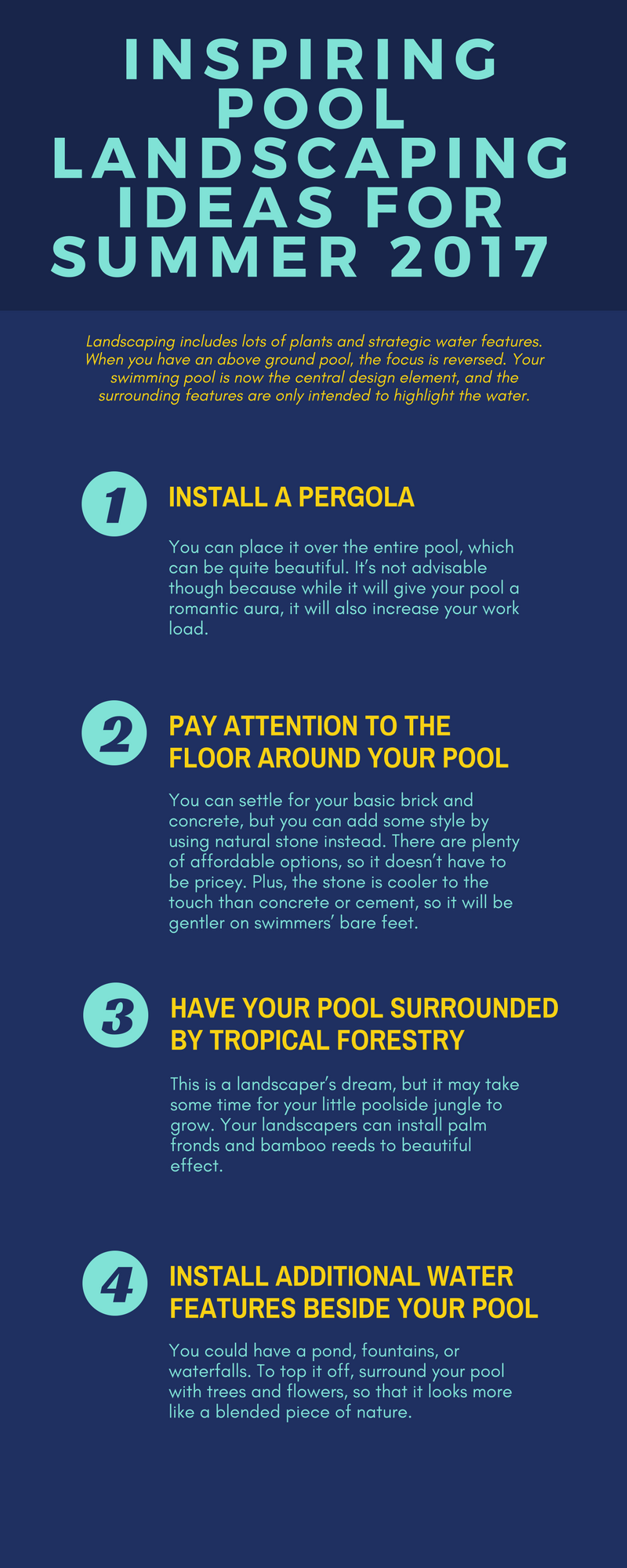 If you're ambitious and are looking for more extreme decor, install additional water features beside your pool. You could have a pond, fountains, or waterfalls. To top it off, surround your pool with trees and flowers, so that it looks more like a blended piece of nature.
Whichever form of pool decor you select, be sure to keep your water clean and well chlorinated or salted. This prevents natural micro-organisms from causing murk and breeding infections. To get in touch with Affordable Pools for more information, call us on (02) 86253656.