When it comes to installing an above ground pool for your home, the team at Affordable Pools are the experts. All our pools are manufactured in Australia at our factory located in Sydney; we have been building pools for over 25 years and have the knowledge, skills and expertise to install an above ground pool that's right for you, we are wholly Australian owned and operated. We pride ourselves on only using the best materials guaranteeing you many trouble free years of pool ownership.
Not only are our products of extremely high quality – but we also offer a wide range of pools to suit any home, yard size and budget. All the pool frames and walls we use are made from the best quality galvanised BHP Bluescope steel. We back our quality with a 20 year pro-rata warranty on both the pool frame and walls. The walls in our pools are constructed of a multi-layered colour bond which is painted on both sides giving ultimate protection to the steel, so it is safe no matter if you have opted for a salt water pool or a chlorinated pool.
Also Read This: How to prepare your yard for your above ground pool
To keep you and your family safe we have designed a covering for the underside of the coping – this is to prevent bees, wasps and spiders from nesting. These copings are our very own square design multi-ribbed internally for added strength and made from a super strong extruded resin.
Our copings are a cream colour this not only makes the pool itself look nicer it also helps deflect the sun's rays to stay cooler than the old-fashioned metal copings, which get extremely hot in summer. The cream colour is a neutral colour that blends well with the colours of most boundary fences.
At Affordable Pools, we don't use middlemen; we sell directly to the public so we can pass those savings onto you.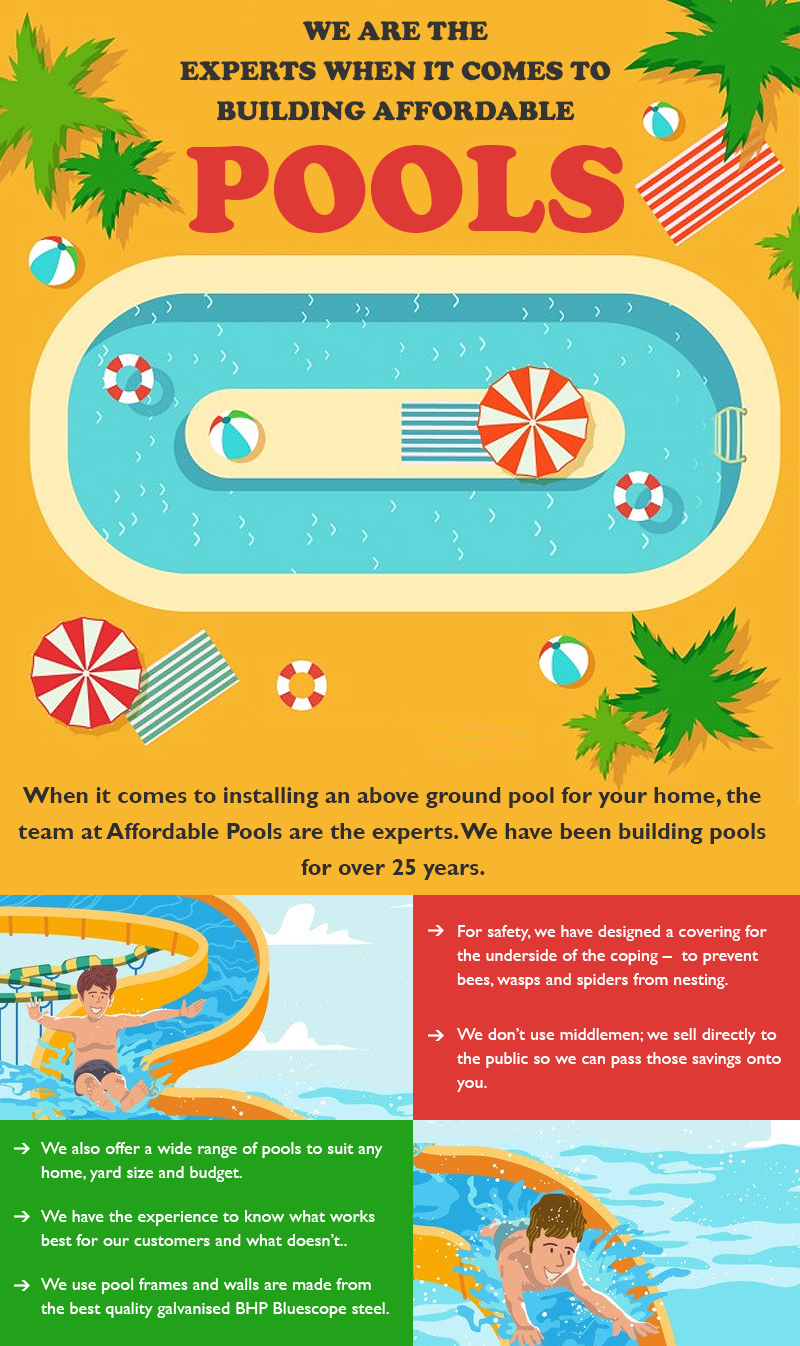 Sadly, there are some cheap imported pools for sale on the Australian market – don't be dazzled by low prices, buy a good quality Australian built pool. Because we have been manufacturing pools in Australia for over 25 years we have the experience to know what works best for our customers and what doesn't when you buy our pool, you are also buying our knowledge.
Our team provide you with a personal service, a well-designed and Australian manufactured pool, with a reputation that is second to none, it's our goal to provide our customers with a pool the whole family can enjoy.
When you have a pool installed in your back yard you are a creating an exciting and fun space for your family to gather and spend time together – all without leaving the back yard. You'll be making memories that will last a life time – from teaching your children to swim to enjoying barbeques and pool parties.
Our team can give you the pool of your dreams!