Installing, or having an above ground pool installed by Affordable Pools is one of the biggest decisions a homeowner can make. Pools are often the centre of attention of a home, great for both exercise and fun, pools also make a great investment as they can also affect the value of your property.
While above ground pools come in different shapes and sizes one of the most important decisions you'll need to make is – how deep do you want, or need, your pool to be? If you have a young family, or you are planning on starting a family the answer to this question is extremely important.
Also Read This: What are the advantages of an above ground pool? – Affordable Pools
When buying an above ground pool – there are 5 things you should consider for your family. A pool is a big investment and you want to get it right.
1.What are you using/wanting the pool for? Do you want a pool for swimming laps, or for beach balls and having fun? Most pools bought for *fun* have a depth of three feet which is enough to accommodate both children and adults, and a maximum depth of four to five feet for safety. If you are looking for a pool you can swim laps in, you are looking at a pool at least 25 meters long and 5 feet deep.
2.What's the best *safe* height for adults? Most pool owners are quite happy with the depths available in multi-depth pools. For example, starting at between 3 feet, 4 feet, 5 feet etc, but you should always keep the height of yourself and your spouse in mind. If a husband is 6 foot 3 and the wife is 4 foot 10 and they want a multi-depth pool, a good safe height would be 4 feet, not five. You need to determine the depth of a pool by the height of the shortest person.
3.Keeping your children safe – Unlike adults, children will quickly grow, so it's extremely hard to pick a *safe height*. For young toddlers, a wading pool no more than 2 feet deep is ideal. After a few years the child will gradually grow in three feet depths and then 4 feet, so never buy a wading pool that's too large.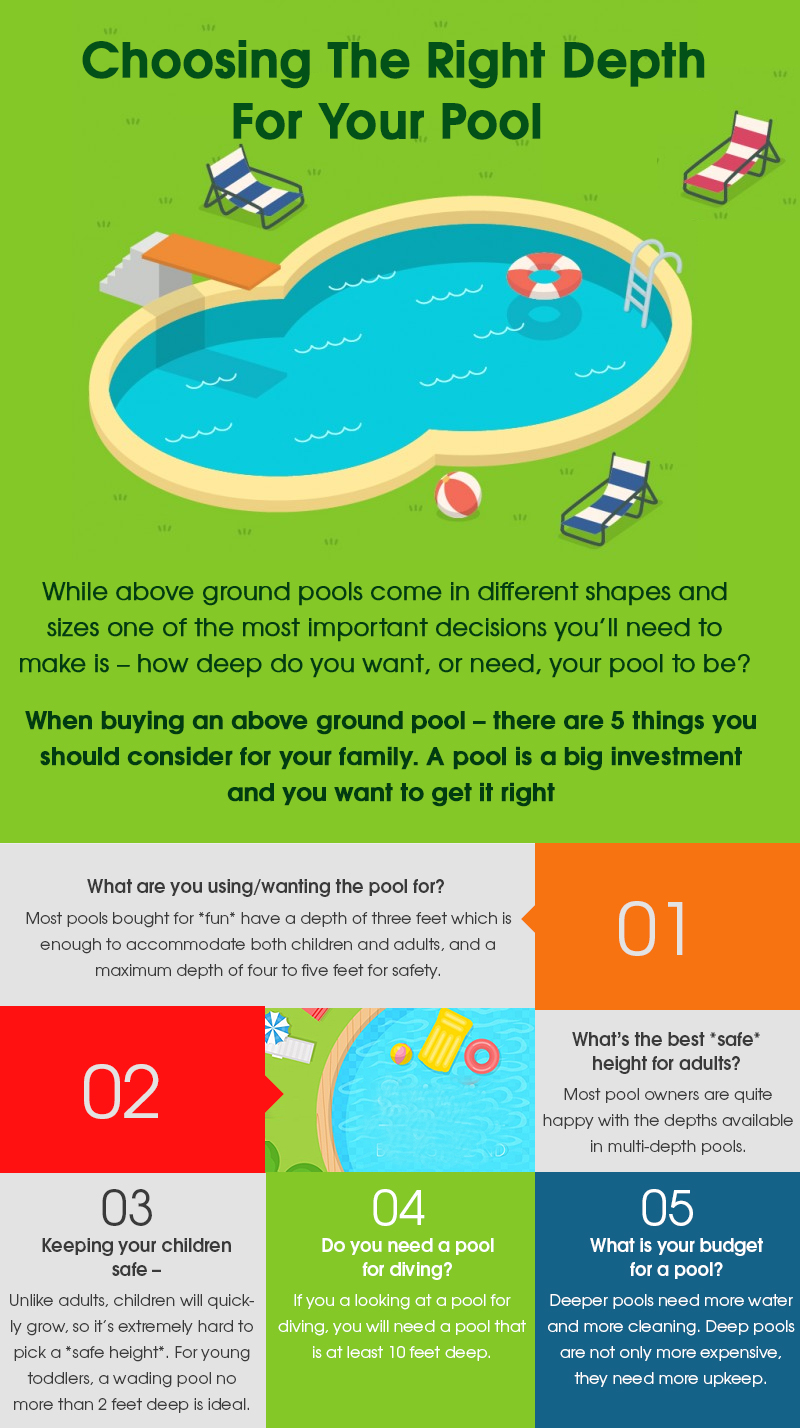 4.Do you need a pool for diving? If you a looking at a pool for diving, you will need a pool that is at least 10 feet deep. Of course a pool of this depth will affect your pool budget.
5.What is your budget for a pool? For some it is tempting to splurge out on a diving pool, but you need to consider this fact – deeper pools need more water and more cleaning. Deep pools are not only more expensive, they need more upkeep. Over a number of years your deep pool will add an extra few thousand dollars thanks to additional water and cleaning expenses.