If you are looking for an affordable way to have a swimming pool – your best option is an above ground pool. They are easy to install over the lawn in your backyard. It can take months for an in ground pool to be installed and it is a huge expense, an above ground pool can not only save you money, but time as well. It is now possible for any home owner to enjoy the freedom and luxury of their own private swimming pool, without having to go through the hassle and expense of having a more traditional in ground pool installed. Above ground pools have become popular thanks to the low cost of both installation and maintenance.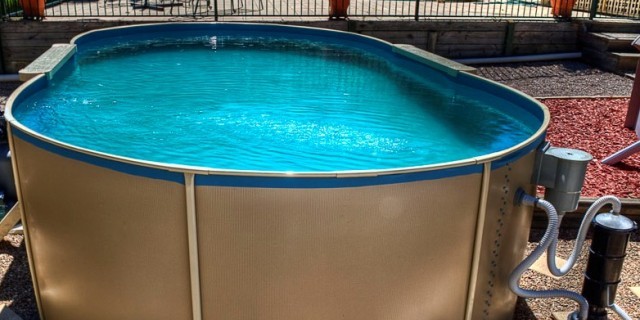 Being easy to install and maintain, you'll find that draining the pool is simple and doesn't require much technical know-how for the pool owner and the installation of accessories like pool lights is also easier and quicker.
Read Also: Why Should I buy an In ground or above ground swimming pool?
With an above ground pool, you will find yourself dealing with less debris and that they are perfect for anyone with young children or pets around the house, as above ground pools are known for their safety due to their height. The probability of small children and pets falling into the pool is lower with an above ground pool, which will reduce your worries, especially if the pool is positioned in a place that is within your line of sight.
As with any purchase, choose wisely before you invest in an above ground pool, buying the very cheapest model on the market isn't necessarily the wisest choice. Very low cost pools are usually made from an inferior material that won't last long. Look for a high quality pool that comes with a good long-term warranty as this can save you a lot of trouble down the track.
The size of your pool is also another major consideration and will depend on the size of your back yard. Make sure that whatever pool you choose it will fit into your back yard and still look attractive. Once you have decided on the pool size, you'll need to purchase filters and pumps, again choose carefully as oversized pumps and filters can cause problems, so choose the correct filter and pump size for your pool – you want things working smoothly. Where possible buy a complete package – pool with the correct size pump and filters.
Always use a good filter for your above ground pool, this will go a long way in ensuring your pool not only will last, but that it will be functioning properly.
An above ground pool is the perfect and affordable way to stay cool in summer and to keep your children happy. A good quality pool fence is also required and install in your children set pool rules and correct water safety.