In summer, there is nothing Australian's love more is than to head to the beach, or to spend long lazy hours at home in their own above ground swimming pool. Adding an above ground swimming pool to your home isn't just an investment, it also adds a focal point for your family to enjoy spending time together, having fun and exercising.
An above ground pool is so affordable, you'll wonder why you never got one sooner! Above ground pools are a fraction of the cost of an inground swimming pool and they do the same thing – provide fun and exercise and keep you cool in summer.
Above ground pools are the perfect choice –
● With an inground pool it's easier for dirt, leaves, grass etc. to blow into the pool, it can be hard work keeping your pool clean especially when it's windy. With an above ground pool it is above ground level so it's harder for dirt and debris to enter the pool.
● Above ground pools are easier to cover with a pool cover than in ground pools are
● With an in ground pool small animals can easily fall in – from your pets to rodents
● Leaks are easier to fix in above ground pools
● Above ground pools are much safer for children, with inground pools it's easy for small children and babies to fall into/crawl into the water, it's a lot harder to get into an above ground pool when you remove the ladder
● Above ground pools are easier to install, in fact you can do it yourself. You can go from no pool to swimming in a few hours, rather than waiting weeks.
● You can choose above ground pools in different shapes and sizes according to your needs.
● The cost of heating an above ground pool is cheaper.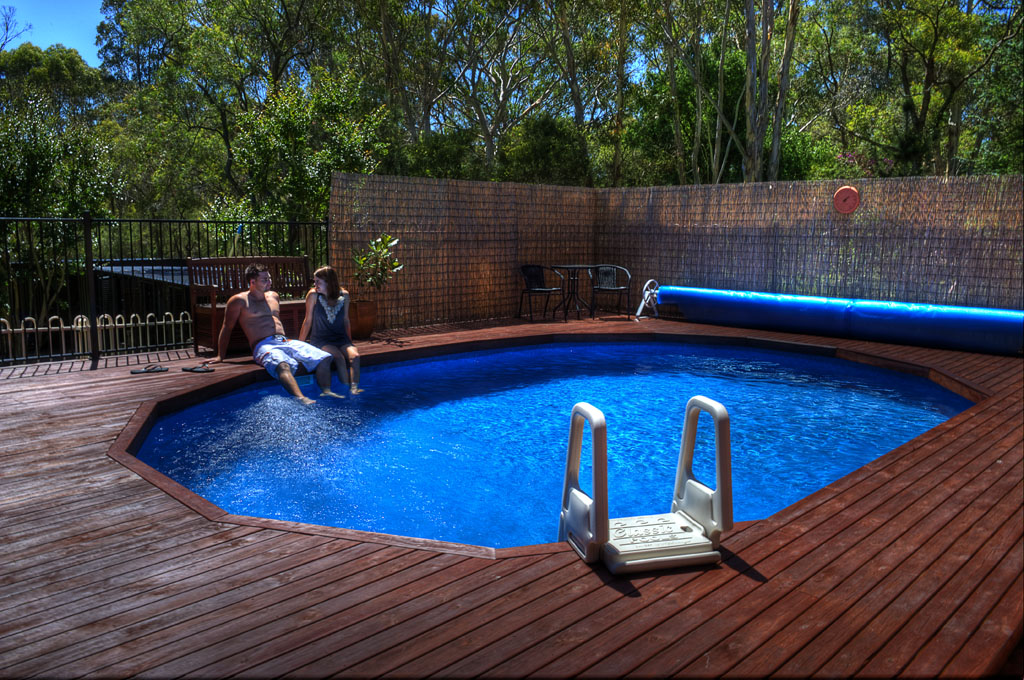 The Cape York Pool package comes with an optional standard or profiled deep end and now comes with resin top copings and braceless. The extra depth a Cape York pool gives you is perfect for a growing family with a depth of 1.32m or the deep end option that gives you a depth of 1.70m – you now have all the features of an inground pool without the price tag.
The Cape York range comes in 2 shapes – round and oval starting from 3m X 1.32m to 5.40m X 1.32 for a round pool or the wide pools starting from 3.0m wide to 4.5m wide, there is a pool size and shape to fit any yard.
Your complete Cape York package includes:
● BHP Colourbond wall in Sandstone
● Premium Heavy Duty liner
● Powder-coated Primrose Cream metal frame with 180mm heavy duty resin top seats.
● Large skimmer box
● Plastic moulded deck ladder
● Pump
● Choice of either a sand or cartridge filter
● Full manual Vacuum kit with leaf scoop, vacuum head, water test kit and CPR chart