Did you know that salt water pools convert the salt into chlorine all by themselves – and that's how they manage to stay sanitary and safe? The popularity of salt water pools is on the rise across the world – and for good reason too!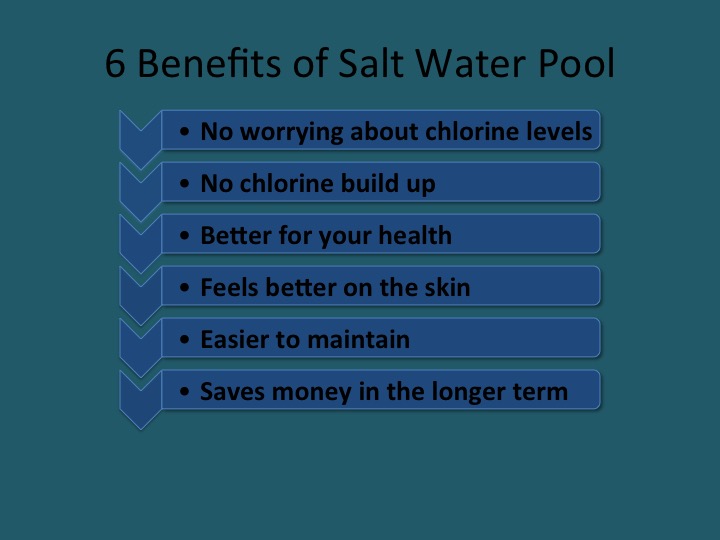 Here are 6 benefits of going with a salt water system over a traditional chlorine pool.
No worrying about chlorine levels
Because salt water pools look after the chlorination levels themselves, there is no need to invest so much time out of your life to check up on your pool. While the chlorine levels do need periodic monitoring, it is nowhere near as much as a traditional pool.
No chlorine build up
Chlorine build up in the pool can lead to things like red, burning eyes, and even asthma in those that are prone. This can be particularly worrying when you have kids, as they may be more sensitive to the effects of the chlorine. This doesn't happen with salt water pools.
Better for your health
It's also better for your health overall. The healing properties of salt have been spruiked for many centuries, and while your salt water pool is only around 1/10th as salty as the sea, you will still find it a healthier alternative.
Feels better on the skin
You know how chlorine can really dry out your skin and make you feel horrible after you step out of the pool? With a salt water system in place, this goes away. Salt water provides a more moisturising effect, and so is much better for your skin.
Easier to maintain
Like we mentioned before, you don't have to check your pool constantly to see if your chlorine levels are okay. You also don't know to be constantly topping up the chlorine in your pool to make it safe for swimming in.
Saves money in the longer term
While a salt water pool can be a be a bigger initial outlay, you are likely going to save money in the long run by not having to purchase chlorine to keep your pool fighting fit.
If you are looking to purchase an above ground pool Sydney, then consider shopping at Affordable Pools. We've got an amazing range of above ground swimming pools, both in salt water and chlorine varieties. We keep our costs down so that we can pass along the savings to you. Make sure to drop us a line about any questions you might have about getting a salt water pool installed.